PlayStation®5 Console – Horizon Forbidden West™ Bundle
$549.99
100 in stock
🚀FREE SHIPPING
💸14 DAYS FREE RETURN
Description
Get the PlayStation®5 Console – Horizon Forbidden West™ Bundle to join Aloy as she braves a dangerous frontier on PS5™.
Enjoy Horizon Forbidden West PS5 innovations including 4K and HDR visuals*, DualSense™ wireless controller adaptive triggers and haptic feedback, Tempest 3D AudioTech** and more.
Due to high demand, consoles are limited to 1 per household.
LIMITED QUANTITIES AVAILABLE – unit not reserved until checkout is complete and you receive a confirmation email.
Account for PlayStation™Network and broadband internet connection required to redeem Horizon Forbidden West voucher.
Broadband Internet access, account for PlayStation™Network and PlayStation®Plus membership (sold separately) required to access online multiplayer and some features. Horizon Forbidden West does not have online multiplayer functionality.
PS5 consoles will ship separately.
What's in the Box

PlayStation®5 console
DualSense™ wireless controller
DualSense™ USB charging cable
Horizon Forbidden West™ full game voucher †
ASTRO's PLAYROOM (Pre-installed game) ††
Base
HDMI® cable
AC power cord
Printed materials
† PlayStation Network account and internet required to redeem voucher.
†† PS5™ console may need to be updated to the latest system software version. Internet connection required for update.
Key Features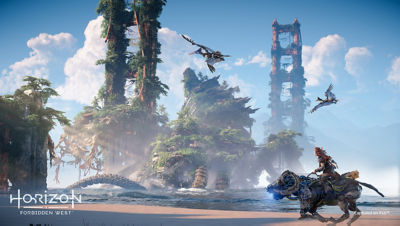 Faster Loading – Fast-travel across the map and get back into the game almost instantly with the PlayStation 5 console's ultra-high-speed SSD and fast load times.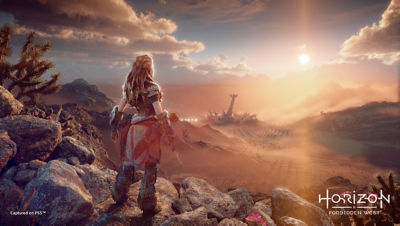 Stunning Visuals

 – Experience the vast world of Horizon Forbidden West in stunning 4K and HDR.* From mountain tops to small sprigs of leaves, everything is realized to incredible detail at an enormous scale. Targeting 60FPS, Performance Mode further enhances smoothness of movement, animations and controls.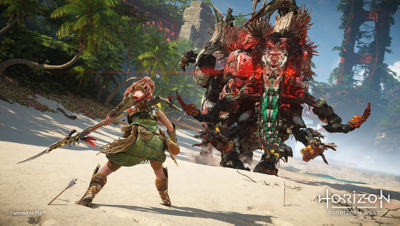 Haptic Feedback

 

– Get closer to each fight Aloy takes on with the DualSense wireless controller's haptic feedback. Feel the sensation of blades of grass you brush past when making a stealth approach, melee swipes you make against machines and armored humans, and the directional impact from enemy attacks when you attempt to evade.
Adaptive Triggers

 

– Enjoy a new level of immersion when you interact with different objects using the DualSense wireless controller's adaptive triggers. Feel the tension in the string of your bow, the pull of your new grappling tool and the resistance of the triggers on heavy tribal and mechanical weapons.
Tempest 3D AudioTech** – Listen to the landscapes of Horizon Forbidden West come to life around you with the PS5 console's Tempest 3D AudioTech. Hear vegetation rustle in the wind, birds flying overhead and large mechanical machines swimming in the water below as you explore environments teeming with wildlife and machines.